The Federation's grip is tightening. Roj Blake and the crew of the Liberator have nowhere left to hide. As time runs out, old friendships are shattered and new alliances are forged. Choices are made, and battle lines are drawn across the galaxy. A path of betrayal, lies and deceit leads to only one destination, towards a deadly confrontation that will change everything.
To be added.
members of cast
Story notes
Edit
To be added.
To be added.
Production errors
Edit
To be added.
Continuity
Edit
To be added.
CD releases
Edit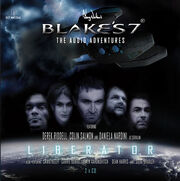 B7 Media audio release.
B7 Media audio box set release (Series 1).
External links
Edit
To be added.
References
Edit
Ad blocker interference detected!
Wikia is a free-to-use site that makes money from advertising. We have a modified experience for viewers using ad blockers

Wikia is not accessible if you've made further modifications. Remove the custom ad blocker rule(s) and the page will load as expected.