The second season of Blake's 7 known as Series B was broadcast in 1979 from January through to April. It consisted of 13 episodes.
Series B is a season in two parts, before Pressure Point and after Pressure Point. Pressure Point seemingly culminates in Blake's desire to bring down Control; the control centre for the Federation. The episode ends with the death of Olag Gan. The following episodes begin Blake's drive to find Star One the actual control centre of the Federation, while Series B does end with its destruction it is not at Blake's hand.
Series B is the last season to properly feature Blake until the final episode of the series, however he does appear in the Series C final episode Terminal.
Series B is the final season to feature Travis.
to be added
Recurring cast
Edit
to be added
Guest cast
Edit
to be added
Production
Edit
to be added
Stories set during this series
Edit
to be added
Home media
Edit
to be added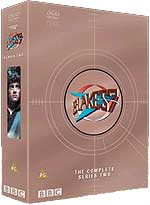 to be added
External links
Edit
to be added