Raiding Servalan's HQ, the crew discover that she possesses a jewel that belongs to an ancient, long-lost crown a mystical artefact of indescribable power. Suddenly the Scorpio crew are as determined as Servalan to acquire the circlet; but if they do, will absolute power corrupt Avon absolutely?
To be added.
Story notes
Edit
The SevenFold Crown is the first of two official BBC audio adventures based upon Blake's 7. Originally broadcast on BBC Radio 4 on the 19th January 1998 it was later released on cassette then CD. The SevenFold Crown is set between the Season 4 episodes Stardrive and Animals
To be added.
Production errors
Edit
To be added.
Continuity
Edit
To be added.
Home audio releases
Edit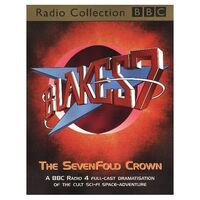 BBC audio cassette release.
BBC audio CD release.
External links
Edit
To be added.
References
Edit
Ad blocker interference detected!
Wikia is a free-to-use site that makes money from advertising. We have a modified experience for viewers using ad blockers

Wikia is not accessible if you've made further modifications. Remove the custom ad blocker rule(s) and the page will load as expected.