The Turing Test
Series:
Big Finish Liberator Chronicles
Season number:
1
Story number:
1
Blake's 7 crew:
Avon (Paul Darrow)

Recurring villains:
Nil
Writer:
Simon Guerrier
Script editor:
 ?
Director:
Lisa Bowerman
Producer:
 ?
Copyright date:
2012
Format:
1 episode
Previous story:
Nil
Next story:
Solitary
Publisher:
Big Finish
To be added.
To be added.
Nil
Music By - Alistair Lock
Title Music By - ?
Executive Producer - ?
Sound Design - Alistair Lock
Studio Engineer - ?
Casting Director - ?
Dialogue Editor - ?
Assistant Producer - ?
Story notes
Edit
To be added.
To be added.
Production errors
Edit
To be added.
Continuity
Edit
To be added.
CD release
Edit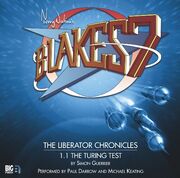 Big Finish audio box set release (The Liberator Chronicles Volume 1).
External links
Edit
To be added.
References
Edit
Ad blocker interference detected!
Wikia is a free-to-use site that makes money from advertising. We have a modified experience for viewers using ad blockers

Wikia is not accessible if you've made further modifications. Remove the custom ad blocker rule(s) and the page will load as expected.