Roj Blake is on the run. He has a ship, but the ship has plans of its own. He has a crew, but who are his friends and who are his enemies? Blake thought space promised freedom, but space is cold, cruel and steeped in blood. The power of the Federation reaches further and deeper than Blake dared imagine. Freedom is nowhere to be found.
To be added.
Other parts - members of the cast
Story notes
Edit
To be added.
To be added.
Production errors
Edit
To be added.
Continuity
Edit
To be added.
CD releases
Edit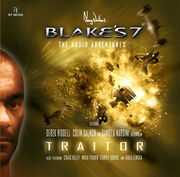 B7 Media audio release.
B7 Media audio box set release (Series 1).
External links
Edit
To be added.
References
Edit
Ad blocker interference detected!
Wikia is a free-to-use site that makes money from advertising. We have a modified experience for viewers using ad blockers

Wikia is not accessible if you've made further modifications. Remove the custom ad blocker rule(s) and the page will load as expected.