Earth. 2230 AD. A time of social and political turmoil… Olag Gan wants to marry the woman of his dreams. Vila Restal wants to steal anything that isn't nailed down.
When they form a partnership, a perfect combination of strength and skill, it seems that nothing stands between them and the easy life. But fate hates to give a sucker an even break and the course of true love never did run smooth.
To be added.
Nil
Story notes
Edit
This is the only audio play from the B7 Media reimagining to use Dudley Simpson's title theme (in a new arrangement).
To be added.
Production errors
Edit
To be added.
Continuity
Edit
To be added.
CD releases
Edit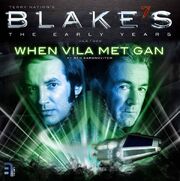 B7 Media audio release.
B7 Media audio box set release (The Early Years Season 1).
External links
Edit
To be added.
References
Edit
Ad blocker interference detected!
Wikia is a free-to-use site that makes money from advertising. We have a modified experience for viewers using ad blockers

Wikia is not accessible if you've made further modifications. Remove the custom ad blocker rule(s) and the page will load as expected.